The video calling feature that was made available in WhatsApp has become one of the most widely used features of the app.
Millions of people use WhatsApp video call to connect with your friends and family. However, there was one downside to this feature.
There was no multitasking available, meaning the video call would stop showing your video when you minimize it to send a message or to do anything else on your smartphone.
But, there is a new feature that has rolled out, which will let you be on the video call while using your smartphone. Your video does not get interrupted, and a PiP mode (Picture-in-Picture) is activated so that the video keeps floating on the bottom left or right-hand side of the smartphone. (WhatsApp would require permission to draw over the other apps)
Play WhatsApp Audio Notes in Background
There is another feature that will make multitasking easier, you can now play the audio file in WhatsApp outside the app so that you don't have to be on the same chat window to keep it playing.
All you need to do is, tap on the audio not to play, and then tap on the home button to go to the home screen of your smartphone. The audio will keep playing in the background and can be controlled from the notification area.
Formatting Text Messages Easily
Now, you can format the text you want to send in WhatsApp, we have shared this trick to format the text in our tips and tricks guide about WhatsApp. But it has become easier to do it.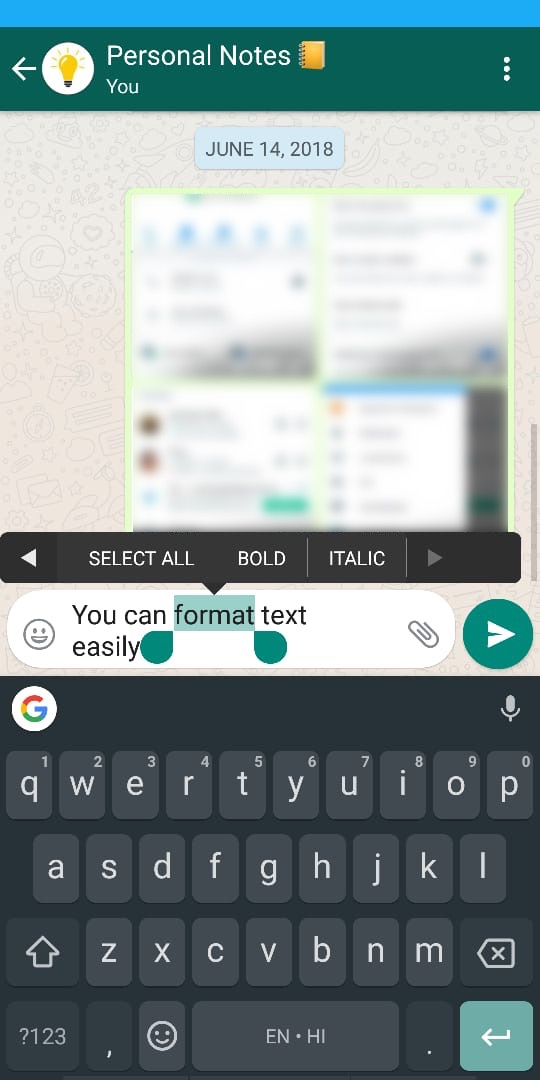 The words can be easily formatted now by simply tapping and highlighting the text, you will get the option to bold or Italic the text, along with 'Select all', 'Cutt' or 'Copy'.
Group Video Calling
WhatsApp has also added the feature of group video calling in its latest version, which we reported a couple of weeks ago. The feature is finally being rolled out in India.
When you update your WhatsApp from Play Store, and you are on a video call you can see a button on the top right-hand side with the Plus sign, tapping the sign will allow you to choose another WhatsApp content to make a call and add them to your video call.
WhatsApp has been adding quite useful features lately it will be interesting to see what all other features we would be seeing in the app in coming future.