Chromebook are quite amazing machines for those who have used it, it is a nice balance between a tablet PC and a laptop.
In fact, some of the latest Chromebooks are actually hybrids that can be converted into tablet PCs when you need them.
And then there are Chromebooks with LTE connection having the ability to insert SIM for data.
Which brings me to thought, what if we could install WhatsApp on it since all the latest Chromebooks have started to support Android apps as well.
But when you try to install WhatsApp from the Play Store it would give you a warning that you won't be able to install on your Chromebook just like you are not able to install WhatsApp on a tablet PC.
We have already figured out how to install WhatsApp on a tablet PC and in this article we are going to install WhatsApp on a Chromebook.
How to install WhatsApp on a Chromebook
Well, the easiest solution would be to use WhatsApp Web, as many of you would already be aware of this feature where you can mirror the WhatsApp on your smartphone to a laptop.
In fact, WhatsApp Web is quite powerful that lets you do a lot of things you can do on your mobile phone. And the best part is that you can continue using WhatsApp on the mobile phone as well as on your Chromebook with the help of WhatsApp Web.
But if for some reason you don't want want to use WhatsApp Web and want to install the actual Android app on your Chromebook, here is what you can do.
You would first need to download the APK file, and the best source for downloading the APK files would be WhatsApp itself, simply head over to whatsapp.com/android.
Once you have downloaded the APK, navigate to the app and double click on it to open and install.
99% will be the chance you will get a message which would look something like this.

This actually means that your Chromebook is on the stable channel and you will have to enable Developer Mode so that you are able to install the APK files of Android apps on your Chromebook.
This shouldn't really bother you because the Developer channel would also mean that you will be among the first to get the features of the Chromebooks that are going to be introduced in future.
About the stability, it is stable enough to be able to work comfortably on a Chromebook.
How to enable developer mode in Chromebook
You will have to head over to the settings area, when the settings of Google Chromebook opens you will find about Chrome OS on the bottom left hand side of the window.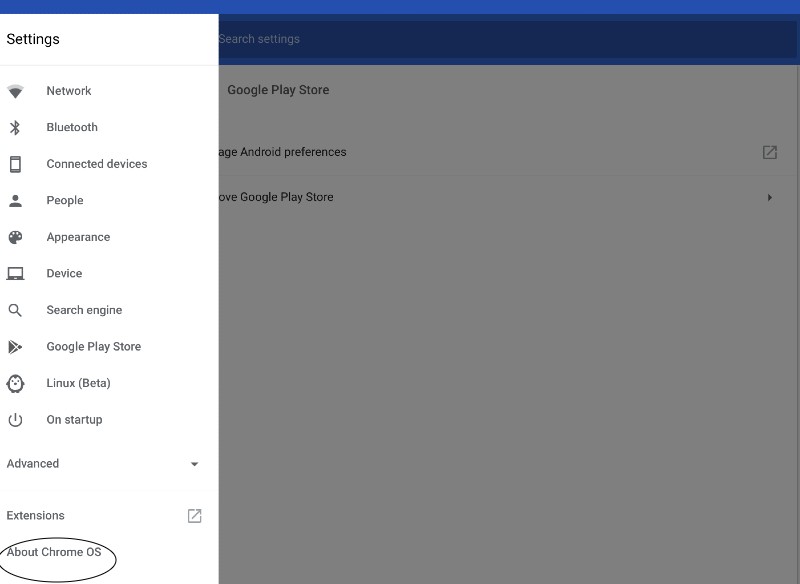 Once you click on About Chrome OS, it would open giving you information about the Chrome OS you are running on your Chromebook.
You can click on change the channel and then select the developer channel once you select the developer channel some files will be downloaded and installed on your Chromebook you might also have to do a reboot.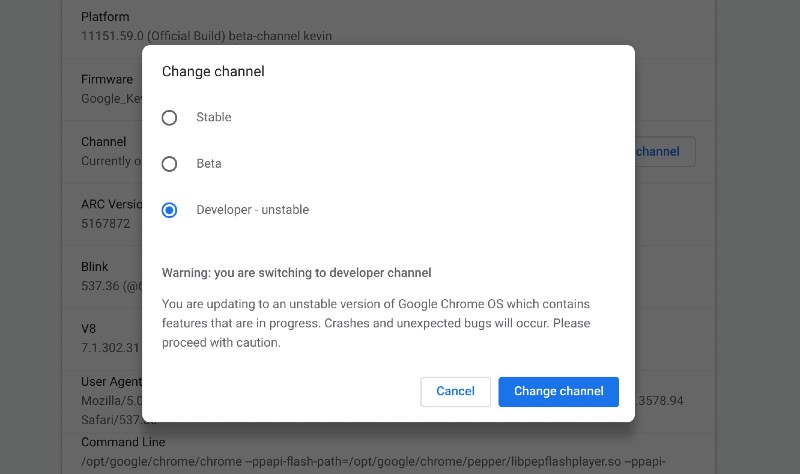 Once your Chromebook has been rebooted you can go to the WhatsApp APK and then try installing it shall be installed now.
Once the WhatsApp has been installed you will have to type in your mobile phone and verify it and setup your WhatsApp.
So this is how you can install WhatsApp on your Chromebook. You can follow the exact same method to install any other Apk file of an Android app that is not available in the Play Store.