The Mi Box launched in India just a few months ago, and considering the pricing, its competing with Amazon fire TV stick. We have reviewed both on our website. Check out the review of the Amazon Fire TV stick. Also, check out the review of Mi Box Android TV.
Both the devices are a great way to turn your regular TV into a smart TV and considering both of them are available for similar pricing, and this is a detailed article to help you pick the best one suited for you.
Difference in Pricing
Currently, the Amazon Fire TV stick is available at Rs 3999, and if you want to the 4K version of the Amazon Fire TV Stick, it will cost you Rs 5999/-.
The Mi Box TV supports 4K and costs Rs 3499/- which is even cheaper than the non 4K Amazon fire TV stick.
There are other things on the spec sheet that are far superior on the Mi Box TV, which improves a lot of things, ranging from boot-up time to a smooth browsing experience.
So, the Mi Box also gives uncluttered Android TV experience where you have an easier option to sideload apps if you want which is quite a tough job to do on Amazon fire TV Stick.
UI and App Experience
And as you can see on the remote of Mi Box TV, there is already a dedicated button from Prime video, which means Amazon Prime video would also work, and so does hundreds of other as you can install from the Play Store.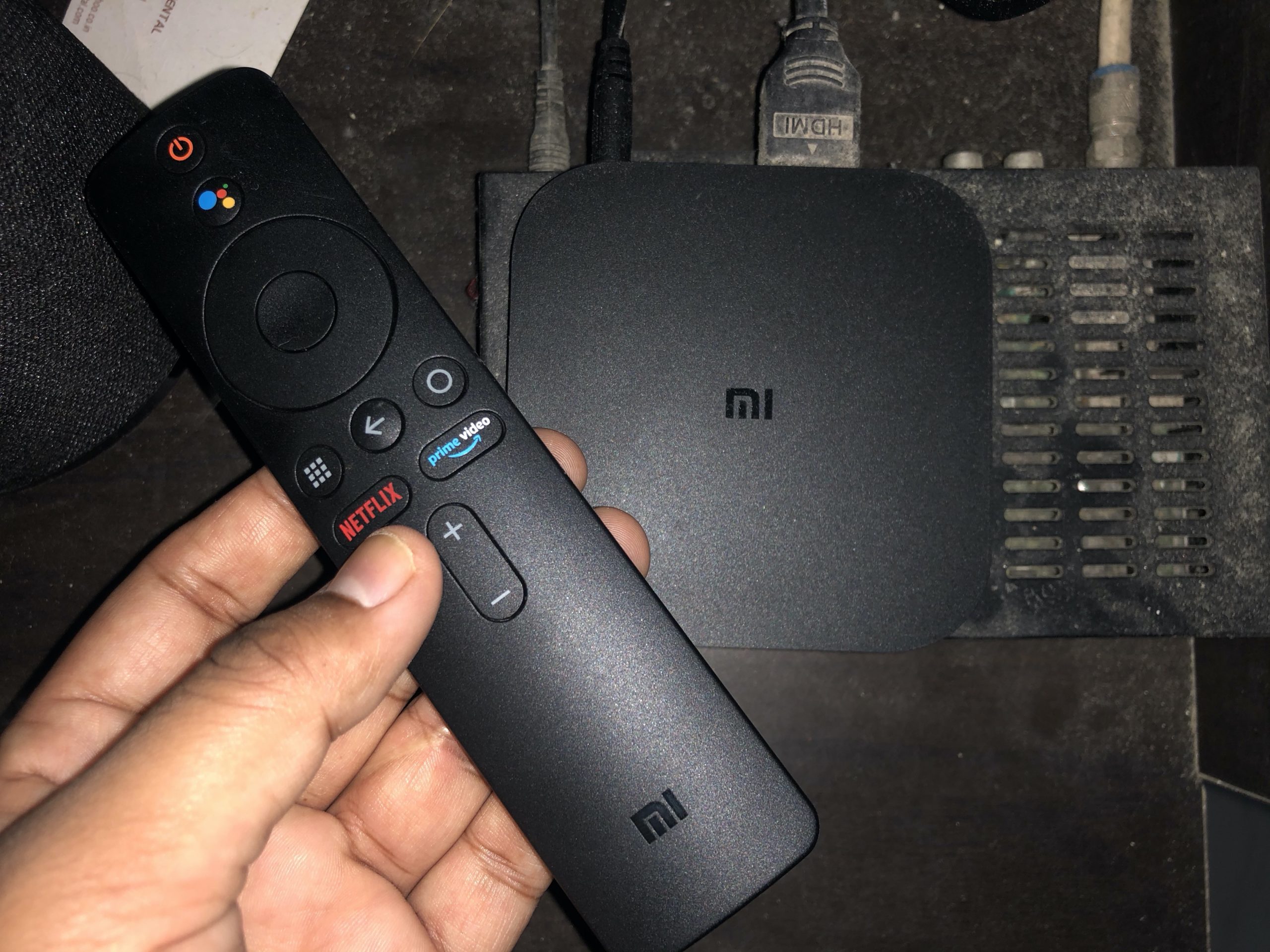 With the Mi Box, you get Android 9.0 on TV with a clean user interface. All you have to do is sign into your Google account with you are already using with your other Android devices as your Android mobile phone.
The Amazon Fire TV stick, on the other hand, comes from a different ecosystem. So, you have to register/log in using your Amazon ID. Android powers Amazon Fire TV stick, but it is heavily customized and complicated.
The difference in Devices and Remotes
The Amazon Fire TV stick is small, 3.4-inch long, and just 32g in weight. While the Mi Box is a small square box with a 3.7-inch length and width and weighs 148g.
Mi Box isn't considerably heavy, but both the devices can be easily hidden behind the TV. Both the devices would require a power socket.
The notes of both the devices are of the same size, with similar functions. The Amazon Fire TV stick remote that I currently use does not have volume buttons, but the latest models come with volume controls.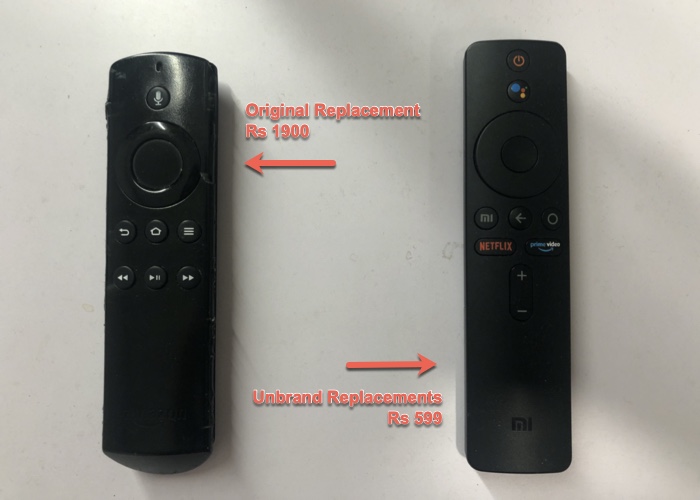 Both the remote have got voice support. Amazon has enable support for Alexa, so you can press the mic button and use voice commands to play something on the TV.
Similarly, the Mi Box remote has got the Google Assistant button, which is equally efficient and even better in some cases.
The Google Assistant button on the Mi Box remote can also be used for weaving weather reports and other information on the smart TV.
Another essential factor you should consider deciding to buy either of the devices is the remote replacement.
The Amazon Fire TV stick remote stopped working, although I repaired it myself (have also written a guide about it). I looked at the replacement, and it was pretty expensive at Rs 1900.
Mi Box remote is pretty new, and it's still working, but I was curious to see the price of replacement remote if it stops working. There are other unbranded remote available that support Mi TV, and are available on Amazon starting at Rs 599.
Availability
Where to Purchase Mi Box
Even though the Mi Box is available for a lower price, it is not listed on Amazon.in since it is a direct competitor of Amazon Fire TV stick. The only place where it is available is the Mi India Store (at least in India).
I also checked Amazon.Com, and the Mi Box S is available. The features of Mi Box S are pretty similar to the Mi Box, which is launched in India. It's just that it has Android 8.1 out of the box instead of Android 9.0.
Where to Purchase Fire TV Stick
Amazon Fire TV stick is officially available on Amazon websites in every country. On Amazon India, check out the full HD version and the 4K version. On Amazon US, only the 4K version is available.,