Android started as a pretty basic OS for smartphones several years ago, now we have got Android 9, and it has grown to become the most popular operating system running on more than a billion smartphones.
It may have so many great features, there are still a few areas where you feel the need for little more. And one such area is the file manager.
Even though the Android OS comes with a Stock File Manager, it isn't something you will find of much use.
Thankfully, this can be fixed by installing a number of third-party file managers available in the Play Store. So we are listing out some of the best file managers for Android devices.
ES Explorer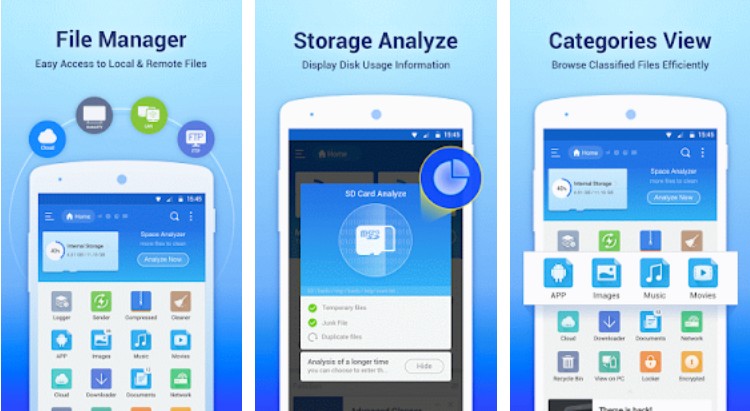 It is by far the most popular file explorer for Android devices, I have been using it's your last 7 years, and it is one of those first apps I download on every Android device which happens pretty frequently.
There can be many reasons why you may want to use ES Explorer. For example, you can view hidden files and folders on your Android device, which will be helpful in viewing the WhatsApp status without anyone knowing about it.
The ES Explorer also lets you create files and folders, so if you want to go one step further in organising your files, ES Explorer can be really helpful.
My Android smartphone is pretty much like my Secondary computer where I have most of my important files, so I have kept them organised in different folders.
You get the ability to view your folders in different styles, like the way you get on your computer. I usually prefer the medium thumbnails, which gives a glimpse of the images without actually opening them.
Explorer also has got a pro version, but the free version doesn't limit you add anything apart from showing some ads here and there.
I actually got the pro version using the Google Play credits earned from the Google Rewards app.
Though, the File manager is the core feature of ES Explorer it offers some other interesting features such as analysing your storage so that you know how much storage is left, and you also get in an easy option to delete files and clear out junk from your smartphone.
There are direct icons to access apps, images, music, movies etc.
And if you have rooted your phone, ES Explorer also lets you explore the Root Folders. This is something you shouldn't really care if your phone is not rooted.
X-plore File Manager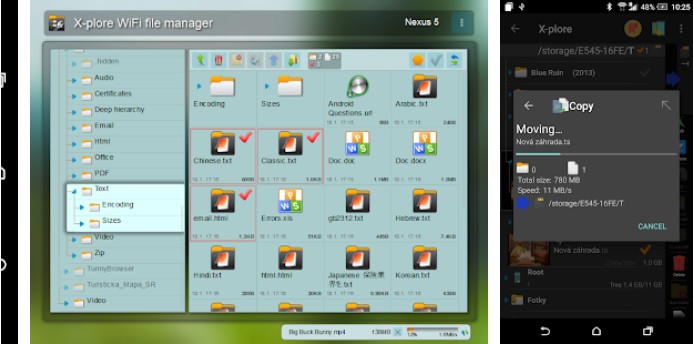 I have used this File Explorer partially for a few days, it has got an interesting design, to explore the folders in a drop-down pane, that opens the contents of the folder on the right-hand side.
It works better in landscape mode on your smartphone so that it can mimic the look of a computer. But it also works in portrait mode so that you don't have to tilt your phone every time you want to use it.
Some interesting features in fluid unzipping compressed files, all the popular compression formats are supported.
You can also Link your cloud services from Google Drive Dropbox etc to access your files in a similar manner as you do on a computer.
FX File Explorer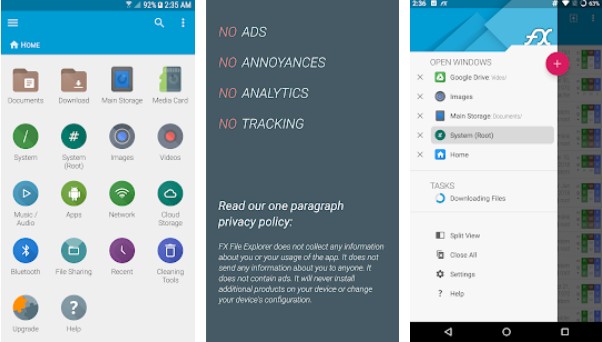 FX File Explorer is another option you have here because of its clean look and a promise to show no ads.
Not that the other apps in this list so annoying ads, it just goes one step further to show no ads or do any kind of tracking if you are that curious person who is concerned about their privacy.
Apart from the promise to show no ads, the app has got a clean material design user interface and a way to nicely browse files.
I think these three are quite sufficient options to choose from, there are many other file explorer but I have found the seem to nicely design and well implemented.
If you find any other file explorer that offers more functionality in better design you can let us know in the comments. This will make this post a little more informative.