TikTok is an amazing app full of Amazing content, the beauty of the platform is that it has got small clips of people lip-syncing to their favourite songs all dialogues.
Even if you use TikTok app just for entertainment by following some popular names on the platform, you can literary spend hours on add scrolling through different videos.
And there are times you will think of sharing one of those videos with your friends on other platforms like WhatsApp Facebook etc.
While you can surely share the TikTok videos by sharing the URL of the video with your friends, but the best way to share would be downloading the actual file and sharing with your friends.
Since TikTok video clips are of a few seconds, they are usually pretty smaller in size.
How to download Tik Tok videos
There is actually no direct way to download videos from Tik Tok, every app prevents users to download videos from their platform completely for various reasons.
But you can still Download the videos using an app called video downloader for TikTok which is available on Play Store.
Video downloader for TikTok can easily allow you to download videos from TikTok app.
Install the app from the Play Store
Here's how the app works,
Install the app on your Android smartphone. Then go to the TikTok app and start browsing videos, when you find the video you can tap on the share button, which will popup different options for sharing, one of the icons in the options would be of the video downloader for TikTok.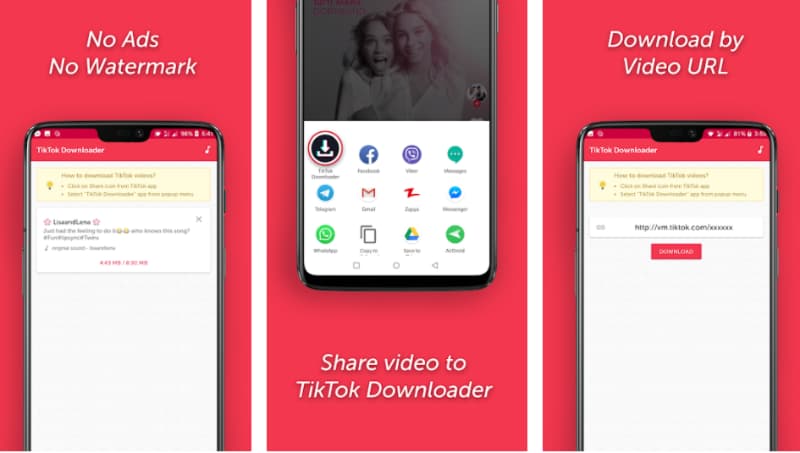 When You tab on the I can you will be able to download the video on your mobile phone and then share the video with your friends on your desired app platform.
Video downloader for TikTok is one of many apps that allow you downloading videos from the TikTok app.
We have previously shared about Snaptube app on our blog which not only lets you download videos from TikTok, but from other apps such as Twitter, Facebook, YouTube etc. You can know more about the Snaptube app by reading this article.