Is your SSD or Flash Drive now showing files when you connect it to your Mobile, there could be many reasons, but you should read this article which talks about one such compatibility issue.
There are various reasons why you should be opting for an SSD over an HDD, or a hybrid HDD.
But one of the most obvious reasons would be the ability to transfer data from your mobile phone to your computer just like you do use a flash drive.
SSDs are comparatively smaller than in HDD, they also have a faster reading and writing speed.
They also do not require some extra power, as there are no mechanical parts inside the drive.
While you may have been using flash rights to transfer data from your mobile phone to PC, using an SSD for the same could be a little tricky.
Tricky, because of the different types of formats an SSD can be formatted.
For example, if it is formatted using NTFS, it would work well on a Windows computer, but on Macs, there will be limited compatibility with it, you only will be able to copy the contents on the SSD to the computer, but not vice versa.
To be able to copy data from your Mac OS to the SSD, it needs to be formatted using Mac OS type.
If you format the SSD using the type which is supported by Mac, it would again create problems when you will be using it with your Windows system or Android-based mobile phone.
Thankfully, there is a common ground, modern type of format that is supported by both Windows as well as Mac.
It's called exFAT, which is an improvement over the FAT32, which has a limited usage now.
We have actually explained this in another article where we were dealing with compatibility issues when using a hybrid HDD.
Formatting your SSD using exFAT type is used is pretty useful when you have two to move files between Windows PC and Mac.
But it could also give you issues when you want to use it with your mobile phone.
While connecting your SSD to your computer using a micro USB or USB type C, you might face issues where your mobile phone wouldn't detect the external SSD.
The simple method to bypass this would be to format your drive according to to the compatibility of your mobile phone, but it would mean that you will be losing all the data stored on the SSD.
There is, however, another way, install an app on your mobile phone which is capable of reading exFAT format.
The App allows you to Mount your external SSD so that he can you read copy the data stored on it.
The app is,
Microsoft exFAT/NTFS for USB by Paragon Software (Play Store Link)
This app can be found in the play store and is one of the few apps which actually works.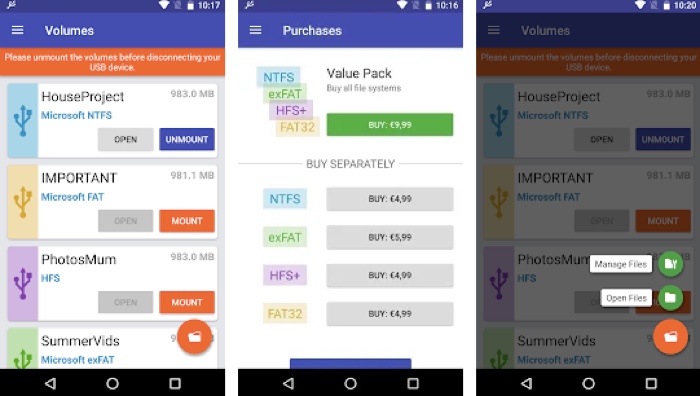 I was able to Mount my 500 GB Samsung T5 SSD on my Xiaomi Poco F1 using this particular app.
Although the app is paid one and you will require to purchase, it is for around $3 (or Rs 159).
If you want to use it for once or twice, you can also opt for the free trial which would require you to login using your Google.
But, if you own an SSD and you want to use it on multiple machines such as a Mac or Windows or Android mobile phone I would highly recommend you purchase this app.
If you do not want to spend money, you can also earn Google rewards points for Google Play Store, so that you can use the rewards points to make the purchase.
Check out this article to know more about how Google rewards points work.
If you to move a lot of data between your computer and mobile and looking for a faster workflow, I would highly recommend you buy this SSD from Samsung which is T5.
Although there is SSD hard drive available in larger sizes like 1TB or 2TB, I have got the 500GB SSD, which is priced reasonably at around $100 (Rs 7999 in India)