Are you looking to know how you can enable the dark mode in WhatsApp? Find out more in which article below.
A couple of months ago, I wrote about how you can enable the much-awaited feature of Night Mode in WhatsApp.
And looking at the number of people searching for it tells us how popular the feature actually is and how eagerly people are waiting for it.
In the article, I explained how people could use the Dark Mode in WhatsApp even before the official rollout.
And I have found a new way you can use Dark Mode in WhatsApp right now.
Use dark mode in WhatsApp using the clone app
The Clone app is available in the Play Store and is pretty useful if you have to run multiple instances of a particular app.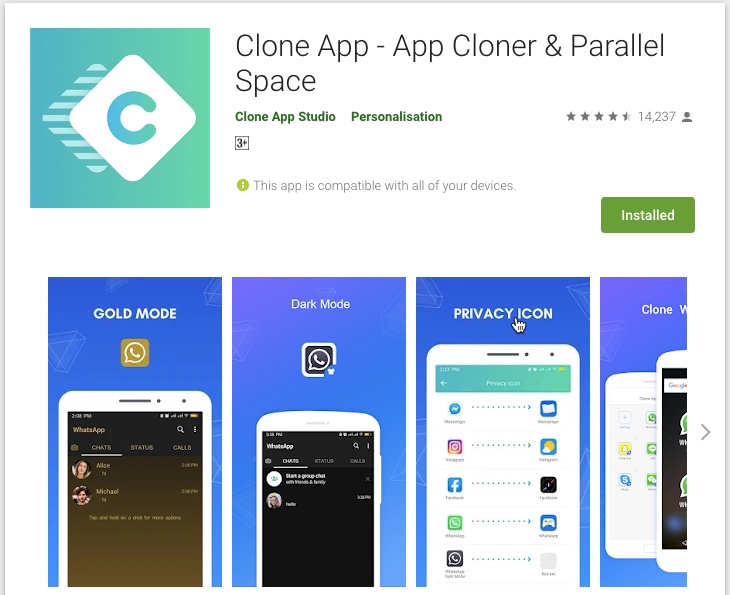 But, the reason I am mentioning this app in this article is, it allows you to run a second WhatsApp account on your mobile phone.
You can choose between the regular WhatsApp, the Gold Version (which is golden in colour) WhatsApp, or the Dark Mode WhatsApp.
You don't have to do anything else apart from installing the app from Play Store, which makes it super easy to use dark mode in WhatsApp.
All you have to do is, set up your WhatsApp account once again and you are good to go.
Limitations of of the Clone App
The app clones the the already installed apps on your mobile phone, and runs them in a parallel space, it is not capable of giving the notifications natively.
And you also need to make sure that the clone app runs in the background, which is ok for a lot of Smartphones these days since they usually come with 4GB or 6gb of Ram.
But, if your smartphone has got AI features for saving battery life, it might kill the apps in the background after a while. Which means you will be missing out on notifications.
So if you are someone who has essential stuff going on with WhatsApp and you rely on notifications to get messages instantly, then you shouldn't install this app.
It is a matter of few more months before WhatsApp rolls out the dark mode natively to their app. We are confident because Facebook has already rolled out a Dark Dode in their other products such as, Facebook Messenger.
I hope you find this article useful if you're looking for using dark mode in WhatsApp right away. You can check more articles related to WhatsApp and other mobile apps on our blog.