Are you looking to know how to edit the videos?
you have shot on your mobile phone, and share it quickly on social media? Check out this article.
A large Part of visual content on social media consists of videos. This is because the videos are easily consumable, maybe this is the reason why apps like Tiktok have been in fashion these days.
iOS and Android Apps to Create Videos for Social Media
In the past, we have shared articles showing you how you can make stunning videos for your stories on Instagram, WhatsApp, or Snapchat.
We have also shared video editing apps for Android, and honestly, you can pick any of them to edit your videos for social media as well.
But the majority of the people would want solutions that would enable them to add a couple of videos into a single one so that they can post on social media.
So check out this list of apps which are available for both Android and iOS.
FilmoraGo
This app comes from the same developers who have created the Filmora Video Editor for desktop.
And the reason I'm putting this app in this list is that it is one of the easiest apps to use.
If you have to put together a couple of video clips, add some music and some effects and export to post on social media, this is it.
The app is free to use, however, in order to get rid of the watermark logo on the bottom right-hand side of your videos, you need to make a purchase of this app.
FilmoraGo is available for both iOS as well as Android and works equally good both platforms.
InShot
InShot it's another pretty convenient app for quickly editing video clips on your mobile phone and sharing it on social media.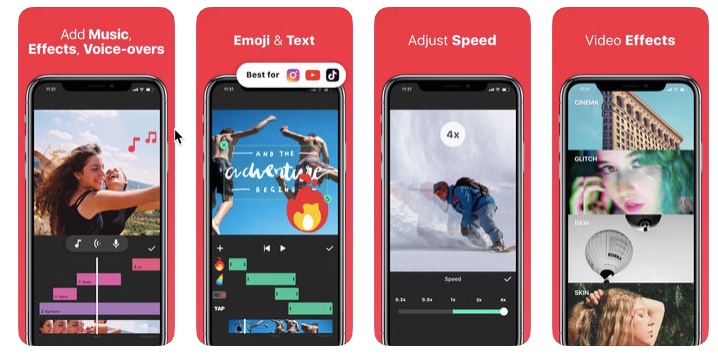 I find this app pretty useful since it allows you to you choose different resolutions, you can create squared videos for Instagram, or vertical videos for IGTV, or Facebook or you can create videos in the standard 16:9 aspect ratio.
This app is also available for both iOS and Android and is available for free.
It's actually on a freemium model, so you can use it for free but you need to pay if you want to remove the watermark logo on the bottom right-hand side or if you want to remove the ads.
There is also a subscription model available which also gives you a number of stickers and other effects that you can use in your videos.
Quik
The Quik app is offered by GoPro, which is the company that manufactures Action Cams.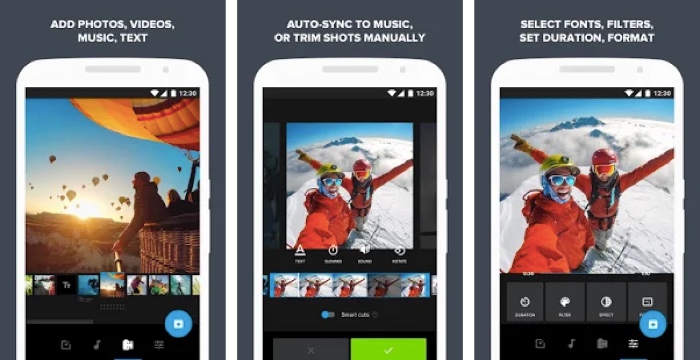 But it is not just for the GoPro footage, anybody can install the application from the Play Store or App Store on their mobile phones to put together their favorite video clips to turn them into a video that they can share on the social media.
The good thing is that it does not put any kind of watermark logo on the video, however, there is an outro at the end of every video which has the Quik logo on it.
I think it is still better than having the watermark logo on the video throughout the time which is pretty distracting in my opinion.
The app is available for free.
Adobe Premiere Clip
Adobe Premiere clip is another amazing app available for iOS as well as Android which can be pretty useful in creating cinematic videos for social media.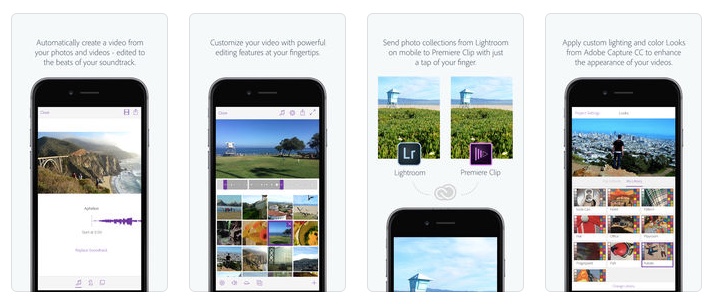 I love it because of its automated way of creating videos that get synced with music beats.
There is a common term among video editors, which is called, cut to music, which means you make the cuts in your scenes every time there is a music beat.
It is a tiring process in all the video editors, even for the ones for desktop, but the end result is quite amazing. Adobe Premiere clip tries to automate that process that too on a mobile phone.
If you have shot a couple of videos of an event, you can and put them together in Adobe Premiere clip add your music and let it work its magic.
You can install it from the Play Store
Kinemaster
If you have limited space available on your mobile phone and you can keep only a number of apps, I would recommend you install Kinemaster app on your phone.
I have included it in several articles, this video editor is so good that I have created full-fledged videos for YouTube using just this app.
Although it does not allow you to change the resolution of the video and you can only create videos with 16:9 aspect ratio which is a standard video aspect ratio from the last few years.
It is a bit complicated and requires a bit of learning curve, but if you are into video making and share a lot of videos, even if it is for social media like Facebook or Instagram.
I would highly recommend you spend some time learning this app, it is totally worth it.
Again this app is free to use with the Kinemaster logo appears as a watermark on the bottom right-hand side of a video, but I can purchase the monthly or yearly subscription in order to get it removed.
I hope you find this article useful, there are many other video editing apps, but they like some basic features and are not available on both the platforms.
Such as Power Director app is only available for Android, although there are many alternative available for iOS as well.
On the other hand, iMovie is available on iOS devices, which is an amazing app for creating videos on mobile phones.
If you are interested in shooting using mobiles you can check out our series of articles related to Mobile Filmmaking.
We have shared everything from recommendations of Smartphones with optical stabilization, best third party lenses for mobiles, best video editing apps, and how to create cinematic shots using a smartphone camera.