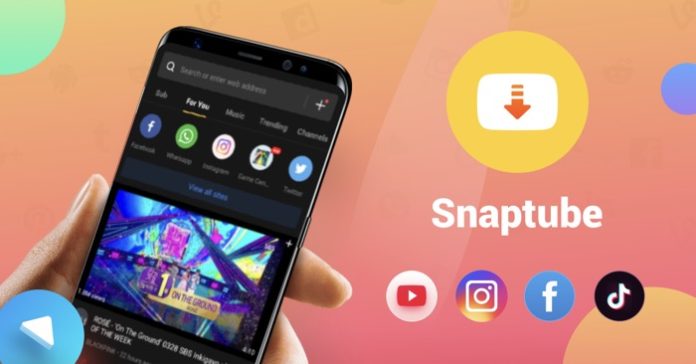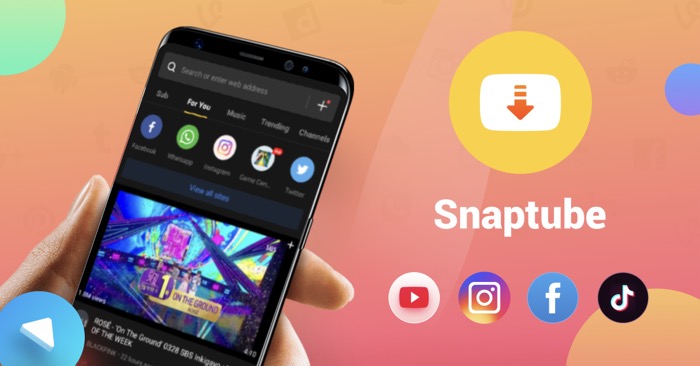 TikTok has increased in popularity and acceptance around the world as the main source of video content creation, editing, and sharing.
There are fun and engaging TikTok videos you come across when scrolling through the For You, with a few swipes you could be watching trending hashtag videos, social media challenges, dance TikTok videos, and lots more.
Every TikToker has struggled at a certain point with figuring out how to download TikTok videos by the username to watch and recreate at leisure, especially after it's banned in some the countries like India. 
TikTok video download by username can be done using the best free video downloader app Snaptube. In this article, we will be taking you through the easy way to download TikTok videos. Ensure you stick with us.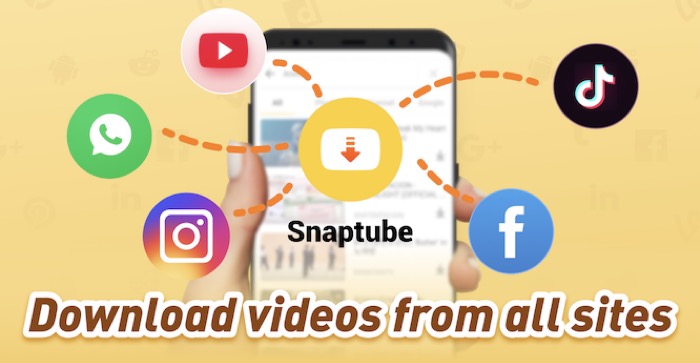 What is Snaptube
I believe some of you must have heard the name of Snaptube. As one of the best TikTok videos downloading apps, Snaptube has over 100 million users.
The best part is that Snaptube is completely free and allows for unlimited downloads. Videos from social media platforms such as TikTok, Instagram, WhatsApp, and others can be saved in a variety of formats, resolutions, and bit rates (including HD quality).
Snaptube is quickly establishing itself as one of the best video and music download apps for Android users. 
TikTok video download with or without a username can be done using the following steps:
Download and install the Snaptube app on your Android device:
Visit Snaptube's official website and click the ''Download '' button. After the download is completed, proceed with the click-through process to complete the app's installation. 
Use the in-app browser to search for your desired video or copy the TikTok video link:
In the Snaptube App, you can quickly and easily access TikTok videos by username. Go to the TikTok site from the Snaptube app, search the username and find your desired video.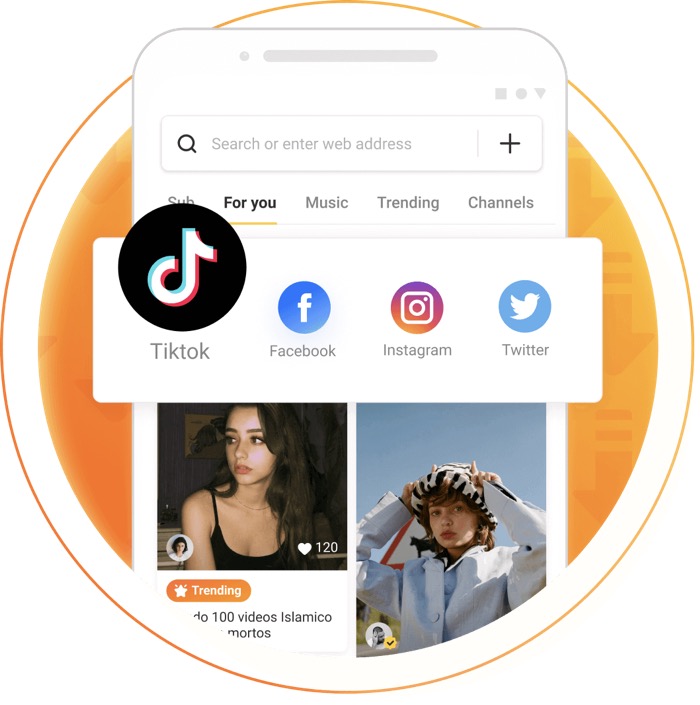 As a substitute, you can just copy the desired video's link from the TikTok app, then paste the link into the Snaptube app to watch or download the video there.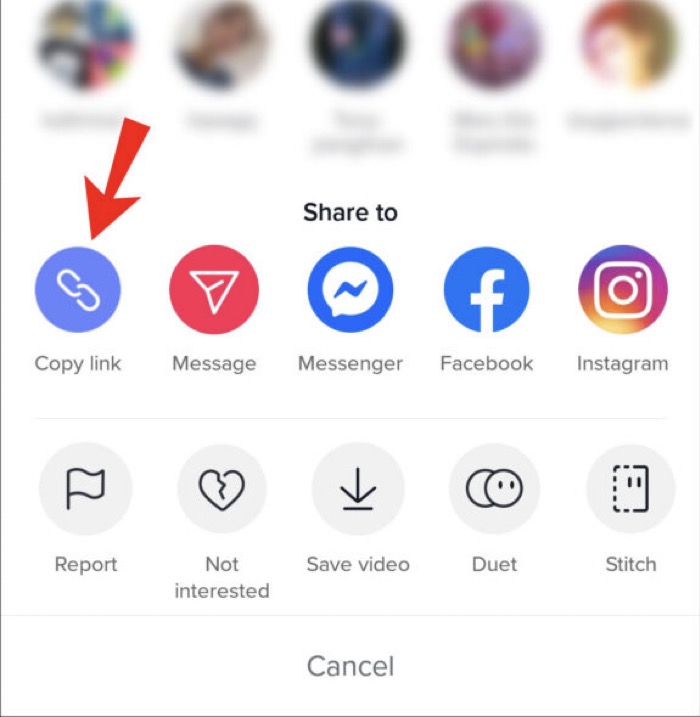 Download the video to your phone: 
This is the final step in getting your desired video. Once you get the video of your choice a yellow Download button shows on the screen. Click on the Download button, and then select a preferred media format and resolution. Go to My Files to track the file download process and access all downloads.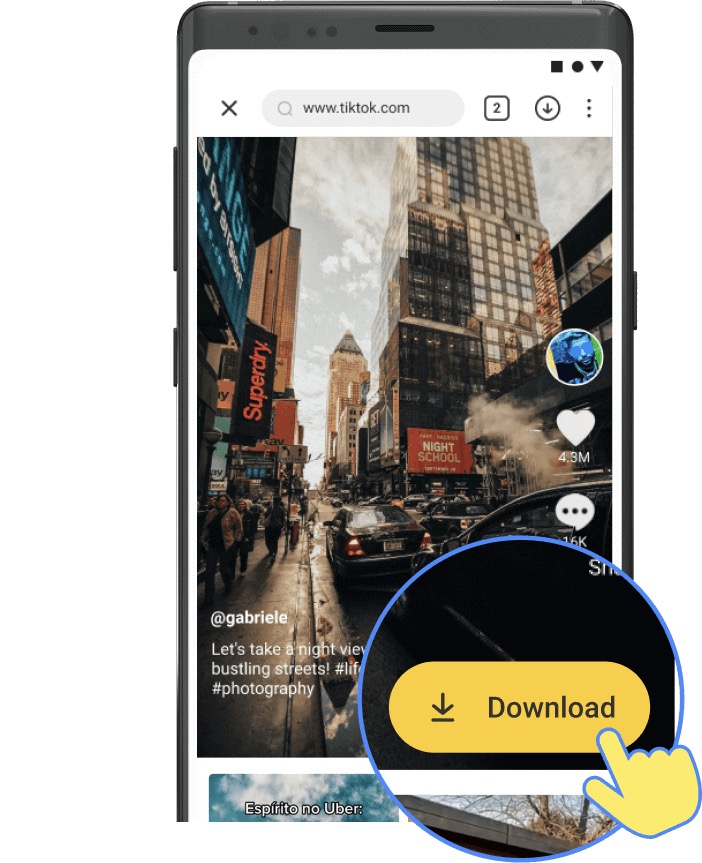 The downloaded TikTok video on your Snaptube app will then be available for watching and sharing with friends, and online communities.
Full features and benefits of Snaptube
Snaptube is a top-notch TikTok video downloader with a variety of features and benefits suitable for people of all ages. Some of these specific features and benefits of Snaptube are as follows:
Fast and reliable free download

: Snaptube allows you to download all of your favorite videos from TikTok and other platforms quickly and for free. It offers reliable service with no restrictions on the number, size, or duration of downloads.

 

Free background app:

Multitasking is common to smartphone users. You want to be able to switch between apps without having to close any of them. Snaptube can operate in a different floating window in the background.

Support multiple file formats

: You can easily download videos from TikTok with Snaptube in a variety of file types and resolutions (including HD quality), or you can even decide to convert them to audio (MP3).

Supports a variety of video platforms

: Snaptube supports over 50 popular photo and video interaction platforms. Most of these platforms are very popular and are used daily, some of which include TikTok, Youtube, Instagram, Facebook, Vivo, Vimeo, and lots more.

 

Free from frustrating pop-up ads:

you may find it difficult to use your app at times if you have ads embedded into the content or intended as pop-ups because this will feel like a maze for some. Snaptube is free from pop-up ads which makes it very easy for you to navigate.
TikTok videos download by username after Ban in India 
The Indian government officially banned TikTok in India. Indian TikTok users are no longer able to enjoy the original entertainment that the app provides.
According to India's actual claim, the application was prohibited because it addressed a threat to the privacy of its citizens and their data.  
TikTok video can be downloaded after the ban using the help of a VPN "Virtual Private Network" which enables you to get around geo-restrictions.
Now, this is how you can download the TikTok videos by username after the ban.
Download any of the top VPNs including NordVPN and ExpressVPN.

Turn on the VPN and connect to a region that supports TikTok.

Download the TikTok app on your Android device.

Now you will be able to access TikTok and download your desired video using Snaptube, just follow the steps mentioned above. 
Snaptube has been shown to be one of the most dependable, user-friendly apps for downloading any TikTok video with a username.
We advise downloading the one and only genuine version that is best for you because there are far too many fakes and copies available on the internet.