Learn how you can avoid spoilers from your favorite movies and TV shows like in Avenger end game for the Game of Thrones.
This is an amazing one for anyone who loves the Marvel Cinematic Universe, because the most awaited movie of the year is going to be released on 26th of April 2019, The Avengers Endgame.
While the Avengers: Endgame movie is not far away, we still have a month and a half left for Game of Thrones to be finished, as the last season of Game of Thrones started this month only and will be ending in the month of May.
The biggest challenge fans of these movies and TV shows face is, how to avoid spoilers. Because let's face it, they are called spoilers for a reason.
They spoil all your curiosity that you just want to you kill yourself by watching the content.
How to avoid Avengers: Endgame spoilers online
The best way to avoid spoilers of Avengers endgame or any other movie that you are looking up to is to stop using on the internet altogether.
By turning off the internet you might as well be able to complete the unfinished tasks that you have been procrastinating for the last few days.
Although it seems highly unlikely that you will be able to it is advised that, so let's move to the other method.
If you fear that you will get the spoilers while browsing in the Facebook newsfeed, you can block certain keywords on Facebook so that they do not appear in your timeline.
Facebook does not allow you to filter out keywords natively, but you can do it using browser extensions.
One such browser extension is called Spoiler Protection 2.0, it is available for Google Chrome as well as Firefox. And now since you can also install google chrome extensions in Chromium-based Microsoft Edge as well, it covers most of the popular browsers, and yes, we are including Opera as well.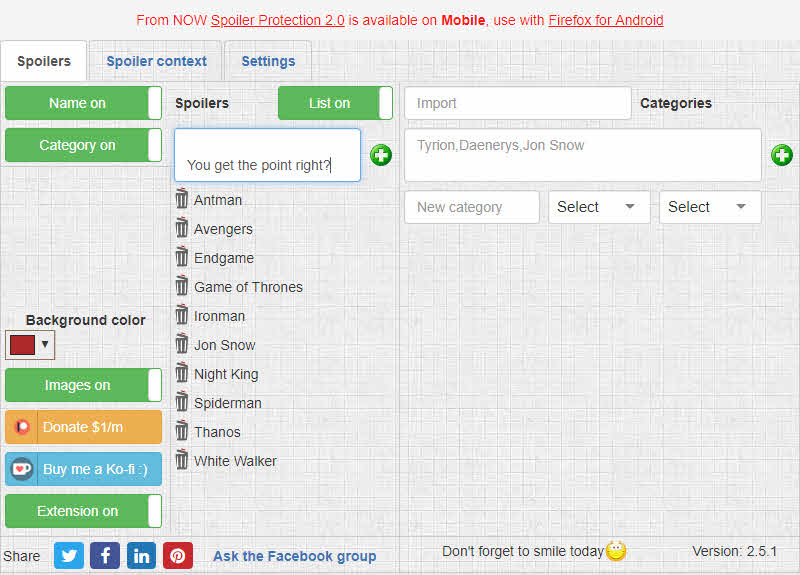 Opera has a browser extension which is named Spoiler Free.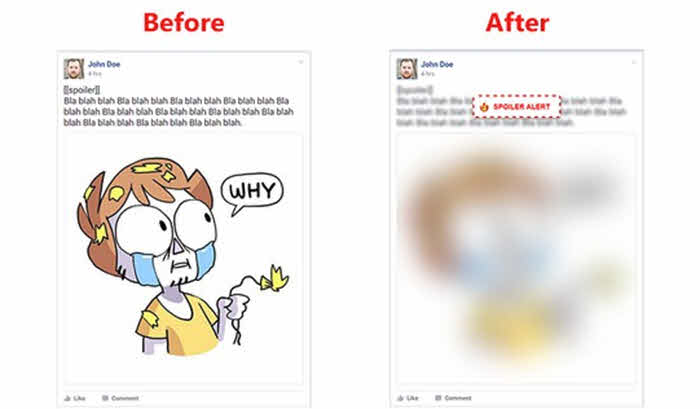 Although the spoiler-free addon for Opera works only for Facebook, the browser extension for Firefox in Google Chrome works almost everywhere.
So, you can avoid endgame or Game of Thrones spoilers on Facebook,  Twitter, YouTube, Google, and other Major News Sites.
So it is not only Facebook where it will hide the spoilers but other places as well.
How to Avoid Movie Spoilers on Your Mobile
According to our mobile usage pattern, we are mostly in our for smartphones, using different apps, and not much on the browser.
But if you are using the browser app a lot on your mobile, you can install kiwi Browser on your mobile which allows you to install Chrome extensions to it, meaning you will get the same functionality as you get on there Google Chrome on desktop.
You can use the same browser extension, Spoiler Protection 2.0 to keep yourself away from such movie spoilers even on your mobile.
What are the most popular apps on your mobile would be using his Facebook, this is the place where your friends or family would try to spoil your favorite Movie or TV show for you.
How to avoid movie spoilers on Facebook on Mobile
Instead of using the official Facebook app, you can try these Facebook app alternatives on your mobile phone. Most of these Facebook app alternatives have the feature of filtering out some keywords.
Which means you can filter out keywords like Avengers, Iron Man, Thor, Thanos, Endgame, to avoid this topic of discussions on Facebook.
Aside: You can also use dark mode in Facebook using these alternative Facebook apps for Android. 
I think Facebook is the only place where you might get the spoilers, but there may be a possibility that you get messages on instant messaging apps such as WhatsApp.
How to avoid movie spoilers on WhatsApp on Mobile
There isn't any method available to Filter out certain words in order to avoid something on WhatsApp, but there is still hope.
Most of the spoilers would contain a media file, such as an Image or a Video.
Most recently a small clip of the ending of Avengers: Endgame was leaked, and which was being shared on WhatsApp, spoiling the movie for a lot of people.
You can avoid situations like this by turning off the automatic download of images and videos for some time.
WhatsApp does offer a feature where you can disable the automatic download of media files on both a Wi-Fi connection and Mobile data.
You can do that by going to the settings area then going to the data and storage usage to change the option under media auto download.
You can do this a few days before the Movie or TV Show is coming until you watch it yourself.
Remind me similar kind of feature available on another instant messaging app as well where you can disable the automatic download of data so that he can save yourself from spoilers of your favorite movies and TV shows.
Share this article with someone who is desperately looking for a way to avoid spoilers for the upcoming Movies and TV shows.