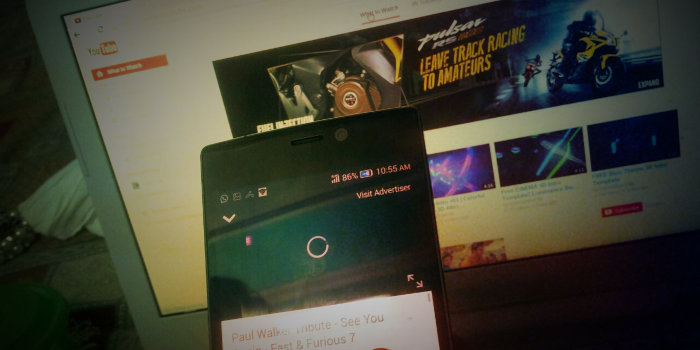 You, as a user will now be able to avoid ads on YouTube videos, meaning you won't have to wait for even 5 seconds to skip an ad. YouTube is bringing a new feature to let users pay to watch videos creating a new revenue stream for YouTube and it's partners.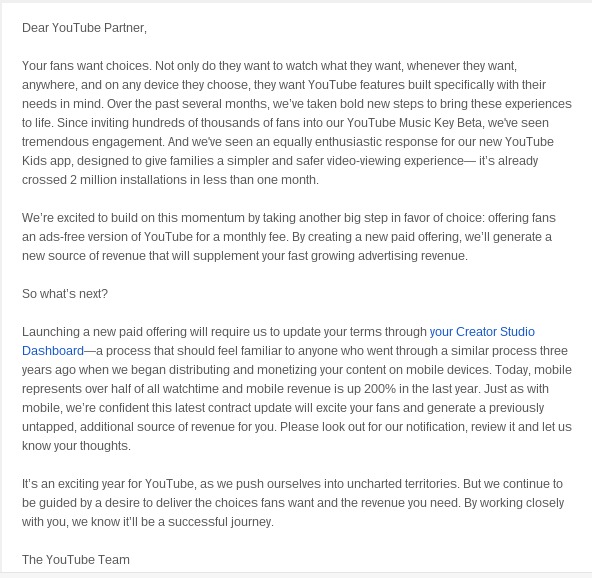 YouTube has been planning this paid subscription model from a long time and it seems it has finally started to take shape. We, as a YouTube patner, got an email (image above) regarding the new revenue stream that will go in effect from 15th July.
This is the point the added regarding this revenue model in thier Partner Program Terms:
Subscription Revenues. YouTube will pay you 55% of the total net revenues recognized by YouTube from subscription fees that are attributable to the monthly views or watchtime of your Content as a percentage of the monthly views or watchtime of all or a subset of participating content in the relevant subscription offering (as determined by YouTube). If your Content is included in and viewed by a user in multiple subscription offerings, YouTube will pay you based on the subscription offering with the highest amount of net revenues recognized by YouTube, as calculated by YouTube.
According to According to Bloomberg, YouTube will charge $10/month to make the ads disappear from all the videos for the users to watch.
However, this is not the only method to watch Ad free videos on YouTube, like, Ad Blocker, but then, it's not ethical and will make YouTubers suffer because everybody needs some flow on fund to keep rolling new videos.
I personally feel YouTube has reached to a level where people would not mind paying for having an ad free experience. I myself watch a few videos at a time when I log into the site and really hate the unskippable ads, ecpsecially the ads that are as long as 2 minutes or more. But, then again, I am  someone who is comfortable making a transaction online we will have to wait and see how fair does this plays for YouTube.