You cannot install WhatsApp on a Tablets since it is a mobile-only app. But there is a workaround, learn how to install WhatsApp on a Tablet.
The mobile app, which is currently testing to bring calling feature to their app, it's already here, is something almost every mobile manufacturer is shipping pre-installed on their mobile phones, WhatsApp.
WhatsApp Messenger for Android Tablets
One of the biggest reasons for its popularity is the ease of creating an account on WhatsApp.
Your phone number is your username, and the password is a security code which WhatsApp automatically manages to verify when you give them your phone number.
It can do it if you are using that number on the device you are installing WhatsApp on.
But, you can also install WhatsApp Messenger for Android Tablets.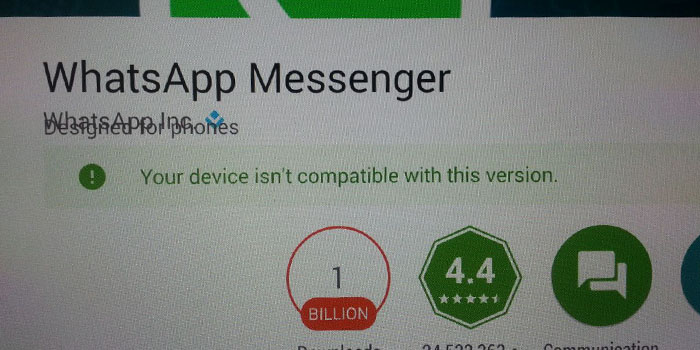 WhatsApp is designed to be a Mobile messaging app, even though they now allow users to send and receive messages on Computers, they are still keeping the installation process limited to mobile phones.
Download WhatsApp for Tablet APK
This is the reason you can not install WhatsApp on your Tablet PC from Play Store. You have to download the WhatsApp APK file from WhatsApp.com and install WhatsApp on Tablet.
I have also downloaded WhatsApp for Samsung Tab. I have, it's the Galaxy Tab A, which I've used a Primary Computer and Phone.
How to download WhatsApp Apk on your Tablet PC?
Now, if you will open WhatsApp site on your Tablet PC, you will be directed to the play store when you tap on the download link.
You can either tap on this link ➙ Download WhatsApp APK File
Or open WhatsApp.com in the Chrome browser of your Tablet and request a desktop site and then tap on the download link.
Installing WhatsApp on Tablet
Tap on the APK file when it is downloaded and make sure you have checked the 'install from unknown sources' option in settings.
Go through the installation process, it would say Tablet PCs are currently not supported. Tap okay to begin.
Enter the mobile number you have access to, it may take a little longer to get the verification code as WhatsApp automatically tried to verify the number.
Verify your number either by the verification code sent to your number or an automated call on the same. You can start using the App on your Tablet PC.
Note: You can not use one WhatsApp account on two devices, as it will automatically get disconnected from the previous device. 
This is how we can download WhatsApp for tablets on Android. I was to run WhatsApp for Samsung Tablet which doesn't support Whatsapp from the Play Store.
I have provided the WhatsApp download link not only for Samsung but all the other Android tablets as well.
Ancient the WhatsApp APK comes from the official website of WhatsApp, it would always provide you with the latest version.
If you search directly for the WhatsApp for tablets APK in Google you might end up on a website that gives you an old APK of WhatsApp.
You might face the issue which says 'your device isn't compatible with this version', if it's an old WhatsApp APK you've installed.
So, so make sure you use the link above to get the latest version. It is the same APK of WhatsApp which is used on mobile and there is no special PPK required for WhatsApp for tablets.
Although WhatsApp in the play store doesn't support tablets, the WhatsApp app itself works fine and adapts to the size of any tablet PC.
Check out the best WhatsApp tips and tricks all at one place.